British Council EnglishScore Tutors Prepare for IELTS with one-to-one online IELTS tutoring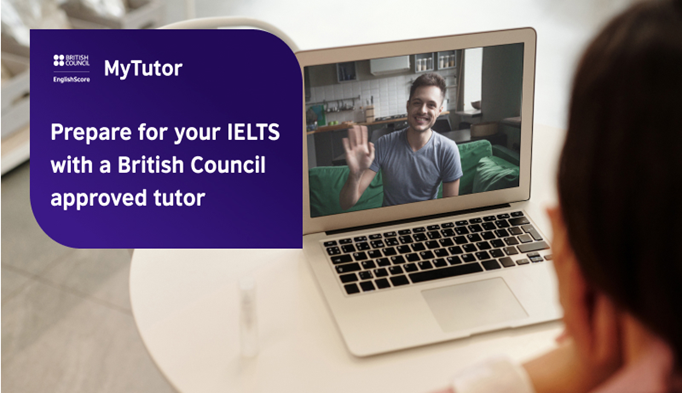 British Council EnglishScore Tutors
Prepare for IELTS with one-to-one online IELTS tutoring

The personal approach – when you need it
Perfect your English and prepare for IELTS in a fun and interactive way using the help of our excellent personal tutor service - British Council EnglishScore Tutors. Our tutors will work with you to understand your current level, your desired IELTS score and the steps required to achieve your goals.
What is British Council EnglishScore Tutors?
British Council EnglishScore Tutors is a personal tutoring service offering 30-minute, one-to-one, online English lessons with British Council approved tutors. Whether you have already booked, or are planning to book your IELTS soon, our highly qualified tutors will develop a study plan with you to focus on the areas you need to improve. Tutors will find a pace and approach that works for you. Lessons are conversational and designed to get you speaking confidently.
Personalised, flexible learning
Our one-to-one lessons are completely tailored to your needs; choose a topic or skill that you want to improve, or select from a learning plan. If you're not sure, you can get expert recommendations from your tutor. After every lesson, your tutor will leave you detailed feedback on your speaking performance.

Our tutors are available 24/7 - including weekends and holidays – so you can plan lessons at times that work around you.
Learn from the best
Our tutors are experienced in helping thousands of students prepare for their IELTS and get the grade they want. Each tutor holds a teaching qualification and have spent lots of time understanding how best to prepare learners for IELTS exams.

You can meet our tutors via their short video presentations to better understand their professional experience, educational background, and accent.

Our system helps you stay on track, monitor your progress and reach your IELTS goal.
Get started
● Sign up for your first lesson for $1 dollar
● Choose your tutor and schedule your first lesson
● Get detailed feedback and a personal learning plan
There is no download required. All you need is a computer, Google Chrome, a webcam, a microphone and an internet connection.

After your first lesson, you'll get access to a full personalised learning plan - including grammar and speaking topics - to work on with your tutor. You can book further 30-minute lessons with your tutor in packages of 3, 10 or 20 lessons.

» Frequently asked questions about EnglishScore Tutors