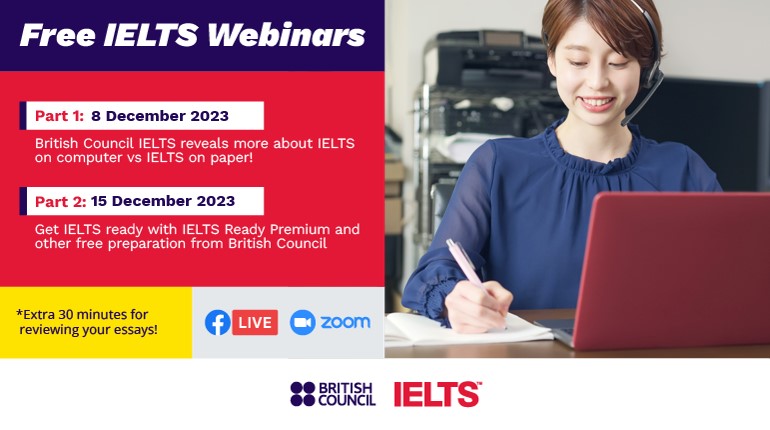 Are you planning to take the IELTS test soon? Or just wanted to find out more about how IELTS can be your passport to further your dreams? Come join us in our FREE monthly 2-part webinars where you can learn more about IELTS and discover the important FREE preparation materials from the British Council you can use.
Part 1: Friday 8 December 2023
British Council IELTS reveals more about IELTS on computer vs IELTS on paper!
Cover the popular and fresh IELTS topics and information and provide information on the different IELTS test formats (paper and computer versions), types of questions, test-taking tips and techniques, especially about the different features of the IELTS on computer! If you are looking for an overview of IELTS and in-depth information on IELTS on computer, this webinar is right for you
Part 2: Friday 15 December 2023
Get IELTS ready with IELTS Ready Premium and other free preparation from British Council!
In this webinar, we'll walk you through popular IELTS preparation resources, including our brand new preparation platform, IELTS Ready Premium. Adapt and personalise your study plan to help you get the score you need. Plus, we'll share a range of other FREE preparation materials from the British Council.

Last but not least, we have something exciting arranged for you!
Check out our "YouShare WeGuide" activity where you can submit your IELTS Writing essay to us, and one essay will be selected where we will review it and provide feedback to you during the webinar for FREE!
Learn more and submit your essay here: https://forms.office.com/r/TMrsSK8V31
To attend the webinars, please register your details below.


Part 1: Thursday 7 December 2023
Writing Task 2: Problems & Solutions
During this webinar you'll practise identifying the different essay types that you might be asked to write in Writing Task 2. We will then focus on one type, essays that require you to write about problems and solutions. You'll have the chance to work through the steps to prepare to write your own essay before looking at a full model answer. We'll also look at the language of cause and effect which will be useful not only for this type of essay but for all sections of IELTS.

Part 2: Thursday 14 December 2023
Lexical sets for Speaking
This webinar will begin by looking at how we learn vocabulary. We will then focus on the use of learning and recording vocabulary in lexical sets as a way to develop Lexical Resource. We shall look at how this approach can help in the IELTS Speaking Test.


To attend the webinars, please register your details below.